Holiday cottages can be cheap when worked out per person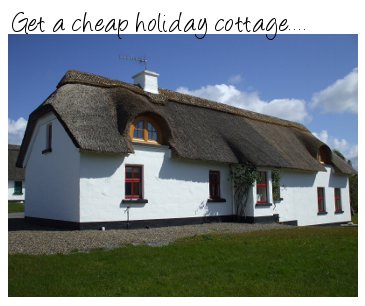 Do you ever look at the cost of a package holiday to the sun, then look at a cottage holiday in the UK, and think to yourself, "blimey, a UK holiday is expensive". At first glance, UK cottage holidays can seem quite expensive, but the main reason for this is that most overseas holidays are based per person, while most UK holidays are based per property.
So, you may look at jetting off to the sun for a few days, and see an offer such as £500 for a week on Rhodes. Well, you say to yourself, that isn't too bad, I can just about afford that. Trouble is, when there's four of you going on holiday, that price suddenly becomes £2,000. Oh. Not such a bargain after all.
On the other hand, see a cottage for £500, and for the same four people, the price is still £500. Or, to put it another way, you're only paying £125 each. Now that isn't so bad. So you see, those headline prices aren't always to be believed. It's not really that they're wrong, it's just that different holidays are priced in different ways.
If you're looking for a cottage holiday which is less than £100 per person, have a look at the sample of
cottages for less than £100
. Notice the prices are broken down by person, so although the cottage in question may cost £900, but if this cottage sleeps 10 people, the price per person will come in below that £100 mark.
Anyway, have a little look at that sample of
cottages for less than £100
, and see whether there's anything to suit your holiday needs.
Find out more about cottages for less than £100